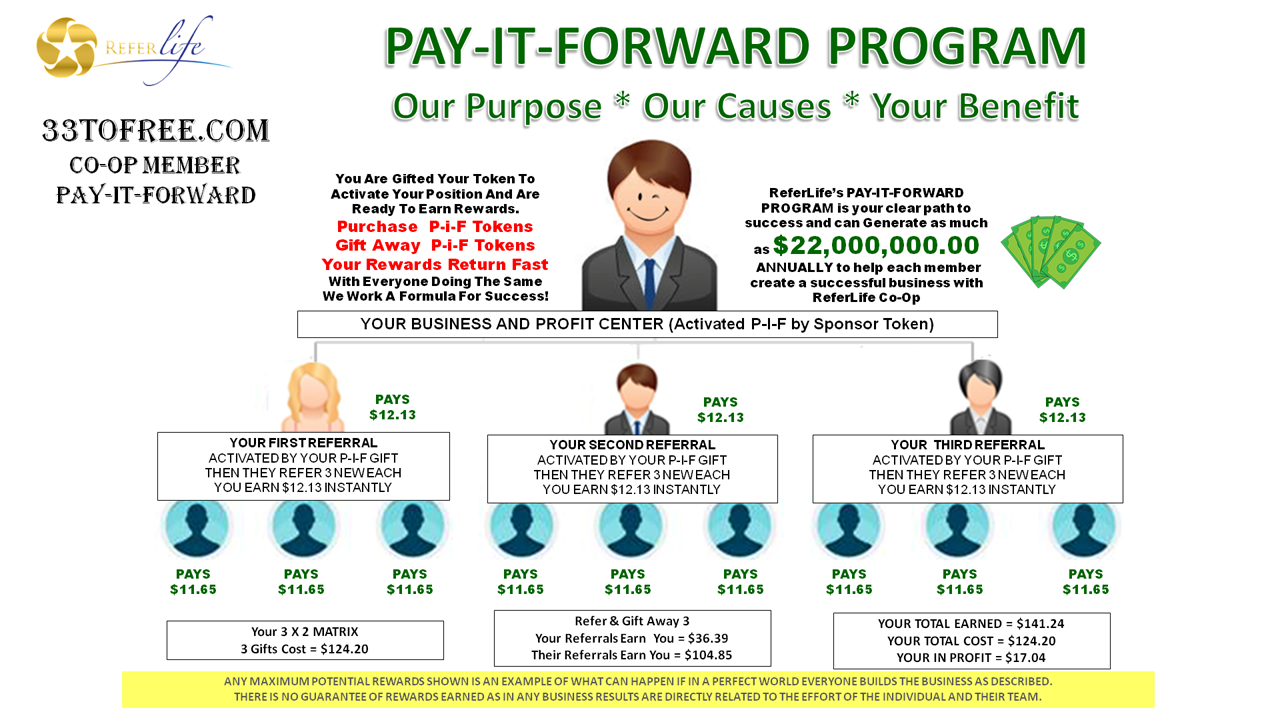 PAY-IT-FORWARD PROGRAM: OUR PURPOSE * OUR CAUSES * YOUR BENEFITS
THE PAY IT FORWARD PROGRAM ALLOWS ANYONE TO GIFT THE $41.40 PIF COMBO PACKAGE TO A NEW MEMBER
THIS TAKES AWAY THE NEED TO SELL PACKAGES AND INTRODUCES THE ABILITY TO GIFT THE PACKAGE.
IF EVERYONE ON YOUR TEAM GIFTS THEIR MEMBERSHIPS THEN THE ABILITY GROW FAST IS IN YOUR HANDS.
HOWEVER, WHETHET YOU SELL THE MEMBERSHIPS OR GIFT THE MEMBERSHIPS THE END GOAL WILL BE THE SAME.
PURCHASE 3 PIF $41.40 PIF EPINS = $124.20 * YOU CAN PURCHASE ONE PIF EPIN AT A TIME
PAY-IT-FORWARD PROGRAM CAN GENERATE AS MUCH AS $22,000,000.00  ANNUALLY.
YOUR FIRST REFERRAL ACTIVATED BY YOUR P-I-F GIFT THEN THEY REFER 3 NEW EACH YOU EARN $12.13 INSTANTLY
YOUR SECOND REFERRAL ACTIVATED BY YOUR P-I-F GIFT THEN THEY REFER 3 NEW EACH YOU EARN $12.13 INSTANTLY
YOUR  THIRD REFERRAL ACTIVATED BY YOUR P-I-F GIFT THEN THEY REFER 3 NEW EACH YOU EARN $12.13 INSTANTLY
YOUR 3 X 2 MATRIX 3 GIFT EPINS COST = $124.20
REFER & GIFT AWAY 3 YOUR REFERRALS EARN YOU = $36.39 * THEIR REFERRALS EARN YOU = $104.85
YOUR TOTAL EARNED = $141.24 * YOUR TOTAL COST = $124.20 * YOUR IN PROFIT = $17.04